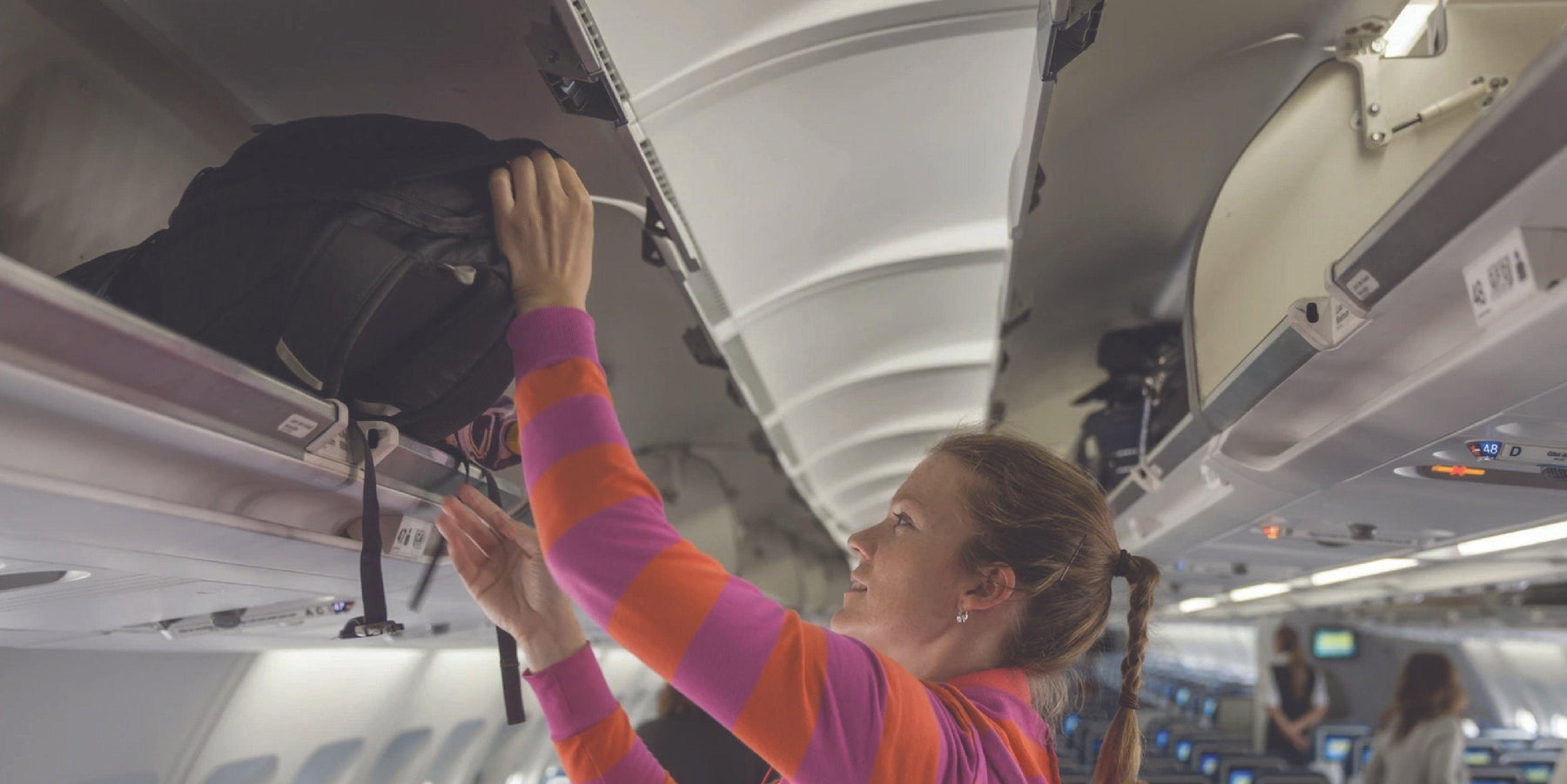 What are Carry On Requirements and Restrictions you need to know?
You've already checked in your larger suitcases, and they're thankfully below the weight limit. The check in process has gone smoothly, you've got your flight tickets ready in hand – wait, the weight limit for carry-on baggage isn't 15kg? A backpack counts as another a carry-on?? Portable chargers are prohibited??? Part of a smooth travelling journey includes knowing the rules of carry-on baggage. Although there are slight variations with every airline, there are still a few basic rules all airlines share. With this short guide, you'll never have to worry about paying extra fees or having items confiscated. Here are the hard rules, the soft, and everything in between.
Size Restrictions 
Carry-on baggage is usually stored in the overhead lockers of the cabin, or stowed under your seat. Hence, the size and weight of your carry-on matters – they need to fit. Airlines usually have different restrictions on the size and weight of carry-on baggage. When it comes to size, a good rule of thumb is that the sum of length, width and height of each carry-on should not exceed 115cm. Some airlines have more specific requirements:
| | |
| --- | --- |
| Airline | Size |
| Singapore Airlines | Sum of length, width and height of each carry-on should not exceed 115cm |
| Scoot | 54cm x 38cm x 23cm |
| Jetstar | 56cm (height) x 36cm (width) x 23cm (depth) |
Weight Restrictions
Weight also has its variations between airlines, but here's another good rule of thumb – ensure that each carry-on does not exceed 7kg. With this in mind, you should be good to go.
Economy

Biz

Business/First

Singapore Airlines

1 main item and

1 small item

7kg total

-

2 main items (each 7kg or less) and

1 small item

14kg total

Scoot

2 pieces

10kg total

2 pieces

15kg total

-

Jetstar

1 main item and

1 small item

7kg total

1 main item and

1 small item

10kg total

2 main items (each 7kg or less) and

1 small item

14kg total
Airlines are a bit more ambiguous about small items and what its size and weight limits are, but small items should be limited to handbags, laptops, cameras, umbrellas, walking sticks, infant food and duty-free purchases. Sometimes, the size and weight restrictions for carry-on baggage also depend on your travel destination. To ensure travelling without a hitch, it doesn't hurt to check online if there are any specific carry-on restrictions. Most airlines will list such restrictions on their websites, and it'll just take a minute!
Restricted items in your Carry On Luggage
Liquid, Gel and Aerosol
In 2015, the Straits Times reported 1.2 million liquid, gel and aerosol items alone confiscated from travellers, and you certainly don't want that happening to you. Most people are aware that restrictions on liquid, gel and aerosol items in carry-ons exist, but many are still unsure of what exactly those restrictions are. Here's another quick rule of thumb:
Products must be in containers of no more than 100ml. Anything more will be confiscated, even if the container is only half full. Keep your full sized perfume bottle and shaving cream in your check-in baggage, and stick to samples instead.

Products must be kept in a transparent, completely sealed bag that isn't any larger than 1 litre in volume.
Usually, exemptions are made for medication, baby milk and food, and food for special dietary requirements. However, be prepared to verify such items, such as having proof that they belong to you.
Sharp objects and weapons are not allowed
Besides restrictions on liquid, gel and aerosol items, there are also items that are not allowed in your carry-on. Most people often overlook scissors and nail clippers, which are prohibited on board, but lesser known items that could be confiscated include your child's Nerf gun (counts as a toy weapon!), razor blades, nail files and even knitting needles. This also depends on the airline you are taking, but most airlines have a list of restricted carry-on items online so that you can do a quick check.
Power Bank and Battery Restrictions
In this day and age, who can possibly survive with just a fully charged device? Most people carry a spare portable charger on them, allowing their phones and tablets to last throughout the day. If you're one of them, don't forget to check the guidelines on power banks, which are considered lithium batteries. If your portable charger is between 100 to 160Wh, you are allowed to carry a maximum of two on board. You'll be fine with anything less than 100Wh, but you will not be allowed to carry any chargers of more than 160Wh.
We know you can hardly wait to get out of the country for your next vacation, and you can ensure having a smooth sailing trip with these tips in mind. It won't hurt to check out your airline's website too for more details. One tap of the finger, one click of the mouse, and you'll be travelling with no sweat in no time.