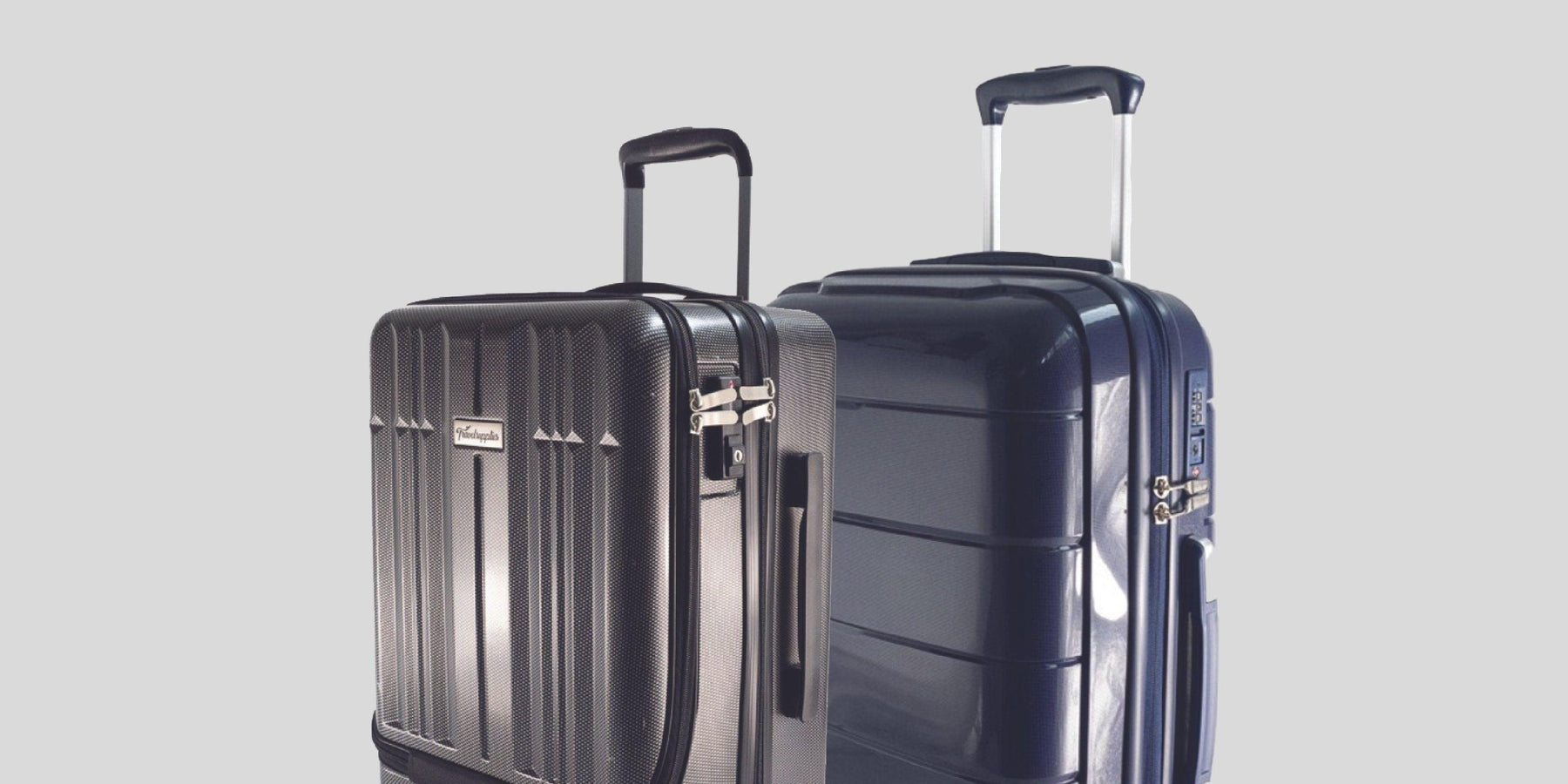 How To Choose A Luggage
Tantalised by pristine white sand and azure seas? Thrilled by the thought of skiing down alpine slopes, the crisp winter air fresh against your skin? Nowadays, just with the click of a button, travelling anywhere and anytime is an exciting possibility. However, before you board that plane, planning beforehand has to be the inevitable part of travelling that leaves everyone just a little frazzled.
Having the right luggage has to be one of the most crucial elements for fantastic getaway. You want one that fits all your belongings, ensures that they do not break when handled by airport staff, and will not burst open just as you're about to check it in. The right luggage relieves you of some travelling stress – not just for one trip, but for many more happy vacations ahead as well.
Choosing the size
When deciding on the ideal luggage, the following factors should be taken into consideration:
The length of your trip
Modes of transport
Size restrictions
Duration of your Trip
The duration of your vacation determines the amount of belongings required to pack. A cabin luggage would be more than sufficient for a short weekend getaway to a tropical island. On the other hand, a longer trip, particularly to a place of colder climate, might require luggage with a greater capacity.
Modes of Transport 
Most trips nowadays involve taking a flight, and bringing a full-sized luggage can be more of a hassle. Many airlines charge extra for baggage to be checked in, and queueing to check-in your bag at departure and waiting by the baggage carousel upon arrival can cause more delay. Have luggage checked in if necessary, if not, we highly recommend doing with just cabin luggage.
Size Restrictions
Most airlines have size restrictions when it comes to luggage, especially for cabin luggage. Moreover, the capacity and dimensions of overhead lockers vary from plane to plane.  With these factors in mind, ensure that you choose luggage that can be brought abroad with ease. You may like to read our extensive article on carry on restrictions.
Our luggage come in three convenient sizes: 20 inch, 24 inch and 28 inch
Check out our collection
 2 Wheels, 4 Wheels, or no wheels?
Back in the days when there were porters to haul travel bags, wheels on travel bags were practically unheard of. Now they are absolutely a vital necessity for the convenience of wheeling them around from destination to destination. However, the only downside is that they can take up extra space.
Styles of wheels
Wheels come in two styles – rigid inline wheels like roller skates, or whirly 360 degree spinners. As a rule of thumb, small carry-on luggage that you pull behind you are easier to manoeuvre, and only require inline wheels. On the contrary, it is easier to handle larger bags or suitcases with 360 degree spinners. Wheels can also come in singles or in pairs, where pairs are generally sturdier and longer lasting.
Silent double-wheel Spinners
At some airports, it can take 20 minutes or more to walk from the train to your terminal, or from the departure lounge to your gate. All our suitcases are fitted with pairs of silent double-wheel spinners, perfect for manoeuvring them through narrow aircraft aisles or across arrival halls with ultimate ease.
 Hard or soft Luggage?
Airline baggage handlers are notorious for tossing bags around, so you would want maximum protection to keep your belongings intact. Rigid suitcases offer the greatest form of protection for belongings. Our suitcases are made of polycarbonate (PCB), the same material as Lego bricks, for even greater strength. Since travelling involves unavoidable wear and tear on carry-on bags and travel gear, peace of mind is knowing that your flight bags can tough out whatever treatment they receive.
Safety Considerations
Between the check-in desk and baggage carousel, your luggage is out of sight, and out of your control for a few hours. Most of the time, they will arrive safely back to you. However, theft can still be a concern when suitcases are consigned to the check-in desk. For added durability and toughness, our aluminium frame suitcases are zipless, fitted with TSA locks and protected by an ABS plastic hard shell – ensuring that your items will be returned to you safely.
The warranty – your guarantee of quality
The more you travel, the more important warranty for your travel baggage becomes. Even the best luggage can fail occasionally. Hence, getting luggage replaced can prove to be another hassle. To put our customers to ease, purchase of any of our suitcases enjoy the full backing of a 12-month long warranty.
TSA lock or not 
If you are flying to the States, it is a requirement for your suitcase and travel baggage to be fitted with a TSA lock. As a safety procedure, the US airport security staff need to quickly access the contents of all items in transit. Travel Sentry Accepted (TSA) locks permit your luggage to be unlocked through special tools, and inspected by authorised security personnel without causing any damage. Generally they are combination locks that you set and lock yourself. All our suitcases are fitted with such locks, one less thing for you to worry about.
You may also like to read our extensive article on TSA requirements.
Material choice - ABS or ABS + Polycarbonate?
ABS plastic is much lighter than many other plastics, with great strength and a rugged surface very resistant to impact, breakage and scratches. Therefore, is is completely ideal for light and manoeuvrable travel suitcases. When ABS plastic is combined with polycarbonate, the result is an even harder shell that can withstand rough handling. Both of these materials are ideal for flight luggage and general travel gear, ensuring that your valuables and belongings will always be protected.
 Style and panache - choosing the colour and design
Travelling in style is easy when it comes to having to pick from our line of luggage. Our range of travel suitcases allows you to let your personality shine by choosing amongst our broad range of individualistic designs and colours. Rarely has your suitcase had such an opportunity to make a statement about you! Best yet, a colourful suitcase is easy to spot amongst the sea of drab grey and black suitcases when it swings into view on the baggage carousel.
Having such a wonderful, varied and wide range to choose from is yet another reason to pick our wonderful Yeobo and Kefi brands. Our Yeobo range has an exclusive range of limited edition designs, with only ten sets produced for each design.
 Interior compartments and pockets – good or bad?
Largely a matter of personal taste and convenience, but a factor that could be considered. Smaller hand carry baggage could have a minimum of two compartments, while larger check-in luggage could have many more. Internal compartments would enable you to organise your belongings more neatly for a fuss-free trip, whereas external pockets would allow you to grab travel documents and valuables quickly with convenience.
 Expandable Luggage?
Ever had a suitcase packed so full to the brim that you had to sit on it to squeeze it shut? A moment like that would have you wishing for an expandable suitcase so that all your belongings would fit. But fear not, our suitcases have that covered too. With expandable suitcases, they can be smaller or bigger according to your needs and circumstances. Just like carrying a spare luggage with you in case you need one, expandable luggage would allow you to bring extra souvenirs from your trip back home without having to check-in another baggage.
 Other Handy features
Nowadays, retractable handles and lockable zips are pretty much the standard for carry on suitcases. Luckily for you, we believe in going beyond the standard, and additional handy features are built into our suitcases for added convenience. Standing around with a quick bite while waiting for a flight or a layover is not unusual, but with your hands full with travel documents, bags and whatnot, it could be a hassle. Our suitcases are fitted with inbuilt cup holders, making quick nibbles more convenient. Moreover, our range of baggage also come with a bag hanger, perfect for any last minute shopping at duty-free, or just for your carry on bag.
 Take Flight
 With the best of details about our range of travel luggage, you can make an informed choice regarding the type of luggage you want to bring with you for a stress-free vacation. Our Yeobo luggage were chosen after intensive consideration of the best travel suitcase brands in the market, and we are sure our satisfied customers cannot agree more. For a price like ours, this is one of the best travel gear you are ever likely going to find. So buckle up – we've got the first part of your vacation covered.